Cannery Beaches: Playa Coral Negro and Playa Balconcito
Cabo San Lucas, Los Cabos, Baja California Sur, Mexico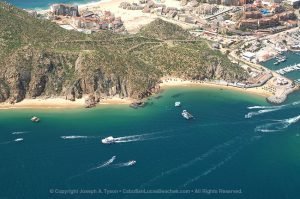 Los Cabos is home to many beautiful beaches, a few of which, like Lover's and Médano, are endlessly extolled by travel and guidebook writers. But there is one beach that never seems to be mentioned, despite the fact that its location is so central to Cabo San Lucas that it borders the entrance to the Cabo San Lucas Marina, and it is mere steps from the building that housed the town's primary commercial enterprise prior to widespread, government-sponsored tourism.  Photo on right: Playa Coral Negro is the cove nearest the marina entrance on the right. Playa El Balcón is on the left.
It has always seemed rather curious to me that a beach of such geographic and historical importance gets so little coverage, but to be fair to travel and guidebook writers, many locals appear somewhat confused about the actual name of the beach. Playa Coral Negro seems to be the most commonly used moniker, but I have also heard this beach and its neighbors referred to as Cannery Beach and Old Peoples' Beach. To further complicate things, Coral Negro and two neighboring beaches are collectively referred to as the Cannery Beaches.
Cannery Beach and El Balcón, its nearby neighbor, seem the most apt descriptors for this seaside stretch. Playa Coral Negro skirts in front of the old cannery—at one time the most productive cannery in all of Latin America—and serves as a sort of natural balcony-like observation post from which interested parties can monitor all the variously sized vessels moving in and out of the Marina. But Playa Escondida, or Hidden Beach, the other sandy shore between the Marina and Playa del Amor, feels most appropriate in terms of the area's stature, or rather lack thereof relative to other beaches in Los Cabos.
The cannery, which is now abandoned and in disrepair—Mexican officials moved the lucrative fishing industry to Magdalena Bay when Los Cabos was earmarked as a tourist area—was once the center of commerce.
For many years there was a fishing pier in front of the cannery. This pier was destroyed during Hurricane Juliette in Ocotber 2001. The remaing pilings were later removed as part of the clean up process.
Read the complete article by Chris Sands about the Cannery Beaches, Playa Coral Negro, Playa El Balcón or Playa El Balcóncita, and Playa Escondida, or Hidden Beach, in Cabo San Lucas. Chris Sands – January 2014