Three of our favorite Pacific Beaches are a fair drive from Cabo San Lucas and can easily be combined with a daytrip to Todos Santos, about an hour north on Highway 19. About a half-hour out from Cabo San Lucas at Km. 97, Playa Migriño is a wide swath of solitude popular with surfers and campers. Five minutes further north, at Km. 94, there's a secluded, somewhat hard to find beach. A dirt road at the bottom of an arroyo is your only marker; passenger cars should have little trouble through the hard pack drive in. Continue driving north on Highway 19 past the farming village of Pescadero until you reach a boxy looking agricultural research station, at Km 57, on the right hand side of the highway. A well maintained access road is across the highway on your left and will take you almost to the beach of Playa San Pedro (also known as Playa Las Palmas)
We hope your appetite for adventure has been aroused and that you will wander off the beaten path to discover the pleasures of our magnificent coasts.
We updated most of this information during late January and early February 2007. There have been some changes in Km. marker locations and descriptions. There is much development taking place in this area so we should expect some further changes in beach access. There is a new four-lane highway planned from La Paz to Cabo San Lucas. That construction may also alter access to these pacific beaches.
Please use extreme caution when trying to located these beaches located off Mexico 19 along the coastline of the Pacific Ocean in Baja California Sur. The highway is still only two lanes and many of the access roads are difficult to locate and are near curves making leaving and getting back on the highway dangerous. During 2008 this stretch of Mexico 19 is under construction in certain areas, adding to the hazardous driving.
Pedregal Beach (Playa Pedregal)
Pedregal Beach fronts the Pacific Ocean at the base of the Pedregal real estate development. Access is through the main entrance of Pedregal off Boulevard Marina in downtown Cabo San Lucas. All Pedregal owners and visitors are able to access the magnificent exclusive Pacific Ocean beach on our western border. A beautiful palm grove offers great shade.
Playa El Faro Viejo (The Old Lighthouse Beach)
El Faro Viejo, the old lighthouse sits high on the dunes along the Paciific Coast of Cabo San Lucas within the Quivira Golf Course. The 7th hole is framed by El Faro Viejo, a 19th century lighthouse that also happens to be one of the oldest structure in Cabo San Lucas was founded in 1905. Decades ago a mechanized lighthouse replaced the venerable structure.
Photo: Sunset horseback ride 1990
Playa el Suspiro or Playa Desalinizadora – Km 121
This beach is along the Pacific Ocean near the Diamante development,  off Mexico 19, between Punta San Cristóbal Ranch and Cabo Falso.  The access road is as km. 121 off  the main highway, (just past the Police Station) out of Cabo San Lucas. Access is marke by a Playa Publica (Public Beach) sign. Turn toward the ocean and drive past the Altamira project and past the Diamante Development.  Playa el Suspiro is 1.1 miles past the main entrance to Diamante.
Playa Las Margaritas – Km. 106
We had this beach incorrectly described in the past. The beach at Km. 104 is correctly called Playa Poza Cota. Unfortunately, access to this beach is though private property with a gated entry. As far as we know Playa Las Margaritas is not open to the public.
Playa Desaladora – Km. ???
There's little-known Playa Desaladora about 10 miles north of Cabo, which is one of the best spots for whale watching, and favored by surfers and surf fishers.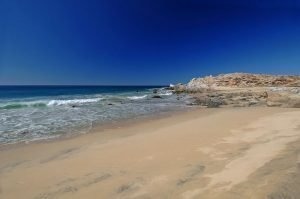 Playa Pozo Cota – Km. 104
This beach was incorrectly called Playa Las Margaritas in the past. Sorry, no margaritas here, but peace and quiet are plentiful.
Access: Turn off Highway 19 at Km. 104 (just before the Baja's ATV center) and proceed about 1.2 miles on the navigable dirt road. You will go past Rancho Carisuva as you head to the beach.

Playa Migriño – Km. 97
Playa Migriño, said to be a great whale watching beach in the winter, is easily located by the sign at Km. 97. Pack a lunch and drinks because the only thing you'll find here is Baja solitude, the way it used to be.
Access: Km. 97 Puente Migriño – Turn off of Mexico 19 at either side of the bridge across the arroyo.
Playa Km 96 – Migriño – Km. 96
This is another access point to the long stretch of beach, Playa Migriño. ATV tours use the beach also but it is normally deserted. The waves can be very strong as they pound the beach. No swimming.
Playa Km. 94 – Playa La Curva – Playa 91X – Km. 94
A secluded, hard to find beach can be found just before Km. 94. Look for a dirt road at the bottom of an arroyo and proceed to the Pacific. Hills are to the west with a long stretch of quiet beach to the east. Campers and motor homes sometimes stop for private camping.
Playa Km. 92 – Km. 92
A secluded, hard to find beach can be found at Km. 92. Access is in a dangerous part of the highway. Use caution. Look for a dirt road at the bottom of an arroyo and proceed to the Pacific. Hills are to the east and west. Campers and motor homes sometimes stop for private camping.
Playa Km 87 Beach – Km 87
This is another beach that offers tranquility and privacy. No swimming is possible, just wide open beach. Access: Turn off Mexico 19 near a sign for Rancho San Rafael and a "80 Km/Hr" speed limit sign. Drive down a very rough dirt road about 0.5 mile to a bluff overlooking the ocean. A high clearance vehicle or a 4WD vehicle is needed for this beach access. There is a path down to the beach.
Playa El Cajoncito – Km. 85
Playa El Cajoncito (this beach doesn't have a formal name) can be found by turning off Highway 1 at Km. 85 and following a rough dirt road to the Ocean. A picturesque beach awaits on this rocky point. Swimming is rough with strong waves and rocks on the beach. Update: 03 Feb 07 – this area is now fenced, with no access.
Playa Las Cabrillas – Km. 81.5
A pleasant looking and inviting stop, just off the highway at Km. 81.5.
It offers a nice camping and picnic scene.
Los Cerritos Beach – Playa Los Cerritos – Km. 66
A beautiful, sweeping expanse of pristine beach just south of the farming community of Pescadero. The turnoff is at the top of a hill at about Km. 66. Watch the markers as there is no sign. Drive about 1.7 miles to the beach area. Cliffs are at the western end of the beach with a crescent shaped beach facing the ocean.
San Pedrito Beach (Playa San Pedrito) – Km. 59
In season, whales spout near the shore, and mangoes here ripen twice a year. The Golden Gate Bank is just 3 miles off shore, making it easily accessible for small boats.
Playa El Pescadero
South of Playa San Pedrito is this popular surfing beach in Pescadero, Baja California Sur, Mexico. South of Playa San Pedrito is this popular surfing beach. Formerly called Playa El Estero, this popular surfing beach is called El Pescadero after the fishing village nearby.
San Pedro Beach (Playa San Pedro) – Km. 57
Also know as Playa Las Palmas. This area is a smaller quarter mile expanse of beach bordered by a reed lagoon and protected by rock promontories on both sides. Groves of palm trees frame this gorgeous small beach. Ruins of an old rancho are nearby. Excellent area for hiking, swimming and body surfing.
Playa Punta Lobos – Km. 53.9
Local fisherman launch their pangas in the waves at the local beach several miles outside of Todos Santos. At Km. 53.9 follow a dirt road about 1.7 miles to Playa Punta Lobos. There are several paths that will lead to different sections on the beach where you will spot the landmark rocky promontory and lighthouse. There is a deserted cannery at the beach's eastern end.